Dental Implants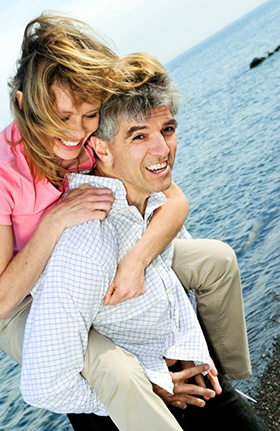 Losing a tooth is a big deal and can be a cause of personal anguish, social anxiety, and physical discomfort. In the past if you lost a tooth, that was basically it – where once you had a tooth filling out your smile, you would be in many cases forced to have an unsightly gap.
Modern dental science has changed everything, because now there are permanent options for people to replace missing teeth using dental implants. Dental implants are a wonderful technology that use a titanium alloy rod that is anchored into the jawbone. This post (or rod) acts as an anchoring point for a dental device, creating a permanent replacement solution for gaps caused by missing teeth.
After your dental implants have been placed by a specialist, at Hurtado and Palola Dental our team can restore a couple of different dental devices to your dental implants.
Some of the dental devices we can restore to dental implants include:
Dental crowns | If you want to replace a single missing tooth our team can restore a dental crown to your dental implant. Our dental crowns are made of a fine porcelain, and are designed to work well and look great.
Dentures | If you are missing most, or even all of your teeth, implant supported dentures are a great way to go. Once your implants are placed, our team can place a permanent denture on your implants, effectively permanently replacing your missing teeth for the years to come.
We are thrilled to be able to offer this service to our patients and their families, because we continue to see what a difference dental implants can make and love to see our patients happier with their smiles. Are you missing teeth and would like a permanent solution? Dental implants could be the option for you! Have more questions about dental implants or our other services? Contact us today!