Cosmetic Dentistry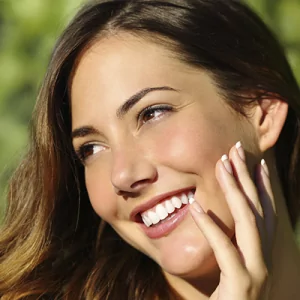 For many patients, their number one dental concern is obtaining a smile that they can proudly show off. At Palola Dental, we're more than happy to help you accomplish that goal! When you visit your cosmetic dentist in Waipahu and Mililani, we'll provide you with our high-quality cosmetic dentistry treatments that are sure to have you beaming. Listed below are some of the cosmetic dentistry services that we offer in our Waipahu office.
Dental Veneers
Dental veneers can be used to reshape the appearance of your teeth in a wide variety of different ways. Your cosmetic dentist in Waipahu and Mililani can use veneers to help fix:
Chipped teeth
Crooked teeth
Broken teeth
Discolored teeth
Gaps between your teeth
Our dental veneers are professionally crafted and designed to be aesthetically pleasing and incredibly functional.
Dental Crowns
Dental crowns are an excellent fix if you have a tooth that needs to have its appearance improved or if it just needs some extra protection. Our highly-durable porcelain crowns will help strengthen your teeth and also boost the appearance of your smile.
Teeth Whitening
One of the biggest determining factors in what makes a smile look great is how white and bright a person's teeth are. Unfortunately, stains and discolored teeth can put a damper on a once room-brightening smile. Thankfully though, we offer a few different types of professional teeth whitening that'll give you a whiter, brighter, and overall more beautiful smile!
Contact Your Cosmetic Dentist in Waipahu and Mililani!
If you have any questions about our cosmetic dentistry treatments or you're interested in learning more about our Waipahu Invisalign procedure, we encourage you to contact us. If you'd like to schedule an appointment with us, please feel free to give us a call at (808) 678-3000. We can't wait to help give you a smile that you can proudly show off!