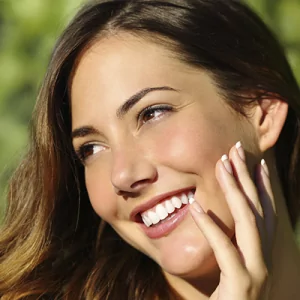 Were you born with a gap between your two front teeth? Are you missing a tooth? Have your teeth yellowed from tea, wine, life? No matter your "why," we've got your "now" at Palola Dental. It's time to make time for improving your confidence and oral health with cosmetic dentistry treatment from your Waipahu dentist. With so many cosmetic dentistry procedures available, there is no reason why you can't have that perfect smile you deserve right now!
Cosmetic Dentistry Procedures Available At Palola Dental
If you're looking to repair or enhance your beautiful smile, you've come to the right place!
Dr. Jaclyn M. Palola is highly skilled at all of the cosmetic dentistry procedures below:
Dental Veneers
Porcelain veneers are one of the most requested cosmetic procedures Dr. Palola receives. Veneers are custom-made of wafer-thin porcelain to fit over your existing teeth and improve any imperfections for that perfect smile. Veneers at Palola Dental are made with professional quality and craft, designed aesthetic beauty and stable functionality. Veneers can cover up:
Chipped teeth.
Crooked or misaligned teeth.
Broken or cracked teeth.
Stained or discolored teeth.
Large gaps between your teeth.
Dental Crowns
If you have damaged tooth needs extra support or an unattractive/discolored tooth, Dr. Palola is here for you with a dental crown. Permanent crowns are usually made of a durable porcelain material and custom-fit to go completely over your affected tooth like a "cap." It is cemented into place to give your tooth extra strength and enhance your smile.
Teeth Whitening
If your teeth have started to yellow, there could be a number of reasons. Some people have a thinner enamel than others and when that enamel begins to wear the yellow dentin layer underneath begins to show through. Other times, teeth are stained by constant use of wine, tea, coffee, or cigarette smoking. Regardless of what has discolored your teeth, Dr. Palola can help. She offers two types of professional teeth whitening procedures that will make sure your smile is at its whitest and brightest!
Get Your Smile Back At Palola Dental Today!
There is never a better time to recharge your beautiful smile than right now. Dr. Palola and her staff happy to meet with you to discuss your options for cosmetic dentistry in Waipahu. Palola Dental also offers Invisalign clear aligner treatment to straighten your teeth. Whatever your needs, we're happy to find your solution. Make an appointment today by calling (808) 678-3000 and let us.