General and Family Dentistry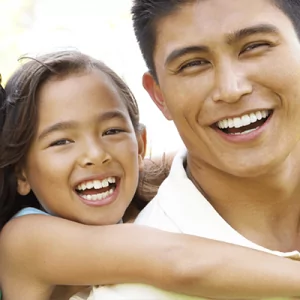 We want you and your family to have beautiful, healthy teeth that last you a lifetime. In order for you to accomplish this, you need access to services that can help you prevent dental issues and protect you against dental issues in the future.
We offer a full line of general & family dentistry services with the long term oral health of you and your family in mind.
Some of our general and family dental services include:
Tooth colored fillings | If you have a cavity, we can help! At Hurtado and Palola Dental we use high quality tooth-colored fillings that are mercury free, helping you to fill in cavities and keep your teeth feeling and looking great.
Teeth cleanings | A tooth cleaning (also known as a prophylaxis) is one of the ultimate tools of any dentist in helping to ensure that your teeth stay healthy. During a tooth cleaning, our team will remove built up plaque and tartar which can cause a host of problems (including gum disease and tooth decay). We will also examine teeth and gums thoroughly to make sure that your teeth are healthy, and work to prevent issues in the future.
Tooth extraction | If you have a tooth that is giving you severe issues, sometimes the only option is a tooth extraction. Our team will help you get the tooth extraction you need in a safe and comfortable environment.
Dental hygiene | If you don't know how to take care of your teeth, how can you expect your teeth to stay healthy? We do our very best to instruct our patients in good dental hygiene, so that you can provide your teeth with the care they need to stay happy and healthy.
We love to help entire families achieve their oral health goals, and to have happy and healthy smiles. Have questions about these services or any of the other services we provide? Contact us or make an appointment with us today!