Dentures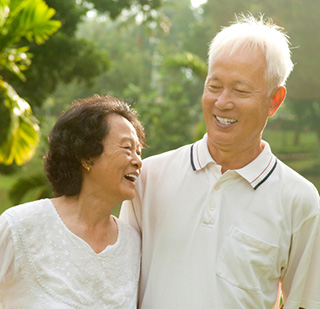 It's our goal at Palola Dental to make sure that our patients have as healthy of smiles as possible – even if they've suffered from serious dental problems, such as tooth loss. Tooth loss brings with it a number of different issues – from increasing the difficulty of eating properly to negatively affecting your speech to even lowering your self-esteem. We don't want to see our patients suffering from these effects, which is why we offer tooth replacement options for those who come to visit their Waipahu and Mililani dentist. One of these options that we supply is dentures.
About Dentures
Dentures are replacements for missing teeth that can be put into and taken out of your mouth. They are a proven form of dental technology that's used to help patients with tooth loss and provide a great way to restore functionality and beauty. While dentures may not be the exact same as a person's natural teeth, modern dentures have become more comfortable and attractive than ever.
Our Types of Dentures
As your choice for a cosmetic dentist in Waipahu and Mililani, we at Palola Dental offer a few different types of dentures for our patients to choose from. These include the following:
Traditional Dentures – These are a popular choice for patients because they offer plenty of versatility in addition to their restorative qualities. Our traditional dentures are custom-made for each patient, which ensures that they provide optimal functionality, fit, and appearance.
Implant Supported Dentures – Dental implants are small titanium posts that are inserted into the jaw, acting like tooth roots to provide support for dental devices. By inserting a dental implant, we can secure a permanent denture that won't slip or cause any other issues that are typically associated with traditional dentures.
All-On-4 – This brand-new technology is a form of implant supported dentures that can be completed much quicker than usual. In fact, it can be finished in as few as 24 hours and just a couple of visits. These implants will be placed by a specialist and an implant supported denture can soon be permanently attached.
Contact Your Cosmetic Dentist in Waipahu and Mililani Today!
Have any questions about our dentures? Contact us and we'll be glad to get back to you as soon as possible! If you're interested in our dentures or any of our other cosmetic dentistry services, feel free to give us a call at (808) 678-3000 to schedule an appointment with your Mililani and Waipahu dentist. We can't wait to hear from you!