Dental Veneers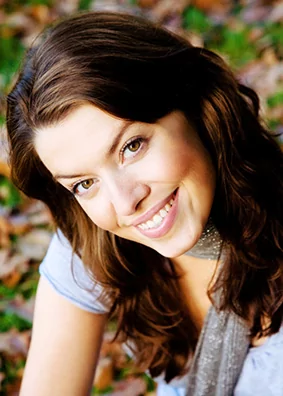 A dental veneer is a special porcelain shell, that is crafted to modify the appearance of teeth – permanently. Dental veneers are a proven method for our team to help correct cosmetic issues and beautify smiles permanently, safely and effectively and can be used for a wide variety of cosmetic applications, including:
Chipped Teeth | Having a chipped tooth can really change the quality of your smile. Using a dental veneer, our team can successfully modify the appearance of chipped teeth, helping your smile be the one that you desire.
Broken Teeth | Teeth can become broken for a wide number of reasons, but ultimately all have the same effect – a tooth that is harder to use, and less aesthetically pleasing. Using a dental veneer, we can correct the appearance of a broken tooth and transform your smile.
Discolored Teeth | Having just a few discolored teeth can make teeth whitening for their sake seem excessive. Using dental veneers, our team can permanently repair your discolored teeth and make them whiter without the need for teeth whitening.
Gaps | If you have a gap that is wider than normal between two teeth, you realize the negative side effects gaps can create. Using our dental veneers, our team can help correct the appearance of your gap, and help you have the smile you deserve.
Misaligned Teeth | If you have a tooth that is misaligned/crooked, having braces just to straighten a single tooth can seem unrealistic. Using a dental veneer, we can change the appearance of a misaligned tooth, and effectively 'straighten' it.
At Hurtado and Palola Dental we are proud to be able to offer dental veneers to our patients so that they can have the smiles they desire and correct cosmetic issues that may have been plaguing them for years. Have questions for us about dental veneers or our other services? Contact us today!